---
HomeAbout ColombiaNewsPeopleScenic ViewsLinksAuthor
+ Latest positive news about Colombia +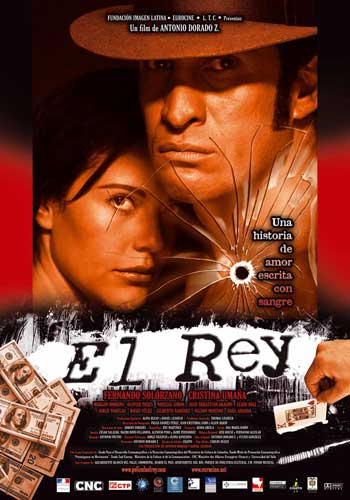 December 15, 2004. (/www.sie.es/pgoya; peacecorpsonline.org/) Colombian Film 'El Rey' Nominated to the Goya Awards and Considered for Oscar Awards Nomination.

The Colombian movie directed by Antiono Dorado "El Rey" has been nominated to the Goya Awards for Best Foreign Movie. Interestingly, the movie "El Rey" mixes biographical fact with the urban legend that members of the Peace Corps opened the market for Colombia's cocaine three decades ago. In the film, a Peace Corps worker named Harry works with El Rey to move cocaine to New York and other US cities. 'El Rey" is probably the only film among the 50 in the running for this year's foreign-language Oscar Academy Award that had its reels searched for cocaine as they left Bogotá's El Dorado airport, en route to France, where the film was edited. "There's always suspicion if anything leaves Colombia,'' says the film's director, Antonio Dorado. "They figure there's got to be something inside."

Luckily, none of the reels was damaged by prying hands. Still, the search had its built-in irony, considering that "El Rey" ("The King") is a fictionalized account of Jaime Caicedo, Colombia's largely unknown first cocaine drug lord, a violent but Robin Hood-type figure who rose to power during the 1970s in Cali, Colombia's third-largest city.

Dorado, a native of Cali, sees the film as Colombia's chance to tell its own version of the drug war's beginnings, decades before the country became the third-largest recipient of US military aid that it is today. Having police manhandling his reels wasn't the only hurdle Dorado had to overcome, however. Colombia initially nominated "Maria Full of Grace," a high-profile favorite among US critics, as its entry for the Oscar for Best Foreign Film. But the choice ran up against a little-known Academy of Motion Pictures Arts and Sciences rule: Foreign-language films must be made largely by people from the country doing the nominating. "Maria" was written and directed by Joshua Marston, a US native. Colombia's answer was to choose "El Rey." The five candidates for the foreign-language Oscar will be announced Jan. 25.

The series of events only served to underscore Dorado's belief that Colombia needs to tell its own story. "This movie was made in answer to all the movies that have been made in North America about 'the other' - about us,'' Dorado says. "I think Colombia is sufficiently mature to begin talking about this whole thing with the drug trade, through real-life characters - characters that we all know, events that we have all lived,'' he adds. Daniel Lesoeur, owner of Eurocine, the French company still looking to broker a deal that would bring the film to US theaters, chose to back the film because of Dorado's compelling characters.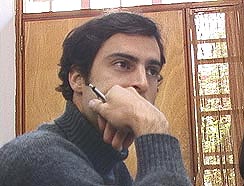 December 10, 2004 (eltiempo.com) A Colombian stands out in Biennale of Sao Paulo

Colombian artist Juan Fernando Herrán was acclaimed in the Sao Paulo Biennale of Contemporary Art. Herrán's work is one of the best reflections of Alfons Hug's purposes for this 26th Version of the Biennale. Hug is the famous curator of the Sao Paulo Biennale. Sao Paulo's Biennale along with Venice's and Documenta de Kassel's are considered the three most important ones in the world for contemporary art. Herrán is a former Director of the Department of Contemporary Art at the Universidad de Los Andes in Bogotá. He was one of the special guests by the curatory of this event. It is an honor and special recognition to be selected for this event.
December 9, 2004. (www.justice.org.uk/trainingevents/libertyhumanrights/main.html) Colombian María Carolina Rondón Gottardo wins Best Young Lawyer Award in the United Kingdom.

Colombian María Carolina Rondón Gottardo wins Peter Duffy Award for an individual aged 35 or under* - Maria Carolina Rondon Gottardo for tireless and dedicated management of the British Institute of Human Rights' Outreach Programme providing education and training to voluntary and community groups. For advancing human rights and ensuring that they benefit people with mental health problems, disabled people, refugees and disadvantaged older people. Carloina obtained her Bachelor's Degree in Law and Economics from the Universidad de los Andes in Bogotá.

JUSTICE and Liberty announce the recipients of the 2004 Human Rights Awards organised in association with the Law Society The awards were presented at a ceremony on Thursday 9 December. The event featured contributions from Sheena McDonald, the writer and broadcaster and Alan Rusbirdger, editor of the Guardian. The awards are the joint venture of JUSTICE, Liberty and the Law Society. They aim to honour the commitment and dedication shown by human rights campaigners in the UK.

Carolina is the British Institute of Human Rights (BIHR) Community Outreach Officer. Sarah Cooke, Director of BIHR, said: "Carolina has developed BIHR's human rights training in the most innovative and impressive way. Her flexible, participative style has been the hallmark of the programme's success. She has done an enormous amount to highlight how human rights are relevant for some of the most vulnerable people in the UK. We will be building on Carolina's hard work and expanding BIHR's work in this area in 2005 and beyond."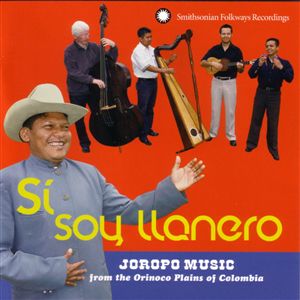 December 7, 2004. (www.eltiempo.com) Juanes, Carlos Vives, Bacilos, Son de Cali, and Grupo Cimarrón nominated for the Grammy.

It is the first time in Grammy history that so many Colombian artists are nominated to the Grammy Awards which will be handed out on Febrary 13, 2005, at Staples Center in Los Angeles. Vives, with "El rock de mi pueblo", and Bacilos, with "Sin Vergüenza", will compete in the same category along with Paulina Rubio, Diego Torres and Marc Anthony, in the Best Latin Pop Album category. Juanes, with "Mi Sangre" will compete in the Best Latin Rock Album against Mexicans Julieta Venegas and Alejandra Guzmán, and the Los Angeles bands Akwid y Ozomatli. Son de Cali will compete in the Best Salsa/Merengue Album Category against Mark Anthony, Victor Manuelle, Gilberto Santa Rosa, and Rubén Blades. Int he Best "Music of the World" Album category, the Colombian "Grupo Cimarrón" with "Si, Soy Llanero" will compete against Raise Your Spirit Higher de Ladysmith Black Mambazo; Tango Varón, by Sandra Luna; Jolgorio, by Perú Negro, and Abayudaya, Jewish music album peformed by several artists.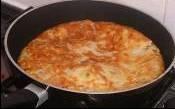 November 26, 2004. (www.eltiempo.com) A Colombian wins best Spanish Tortilla Contest in Spain.

Colombian cook Livia Cardona Montoya won the VI "Tortilla from Spain" Contest held under the San Sebastian Congress of Gastronomy in Spain. Livia competed against eleven professional cooks from the around Spain. The Spanish Tortilla is an icon of national identity for Spanish people. It is a sacred, vital, venerated, and undoubtedly the most single missed thing by Spaniards living abroad. It happens that the best Spanish tortilla is not created by an experienced grandmother of deep Spain, but by a Colombian lady born in Cali. Cardona works for the "Las Cinco Puertas" restaurant in Pontevedra (Galicia), where she makes between fifteen to tweenty tortillas a day since two years ago. "I'm delighted, hallucinated. I just cant' believe it", said Livia who has been in Spain for 12 years. Her secret to defeat Spanish cooks in the most sacred of their culinary domains? Simple, "put a lot of love into it", said Livia.
November 10, 2004. (www.sadco.org) Colombian Dr. Alfredo Lopez, outstanding young professional of the year.

Dr. Alfredo Lopez has been awarded as Outstanding Young Professional in the category of Health and Life Sciences by the Junior Achievement of Central Indiana, Inc. and KPMG LLP. The Award Lucheoun was held earlier today Nov 10th. Dr. Alfredo Lopez, is a member of Board of Directors of the Sociedad Amigos de Colombia, SADCO. He is a renowned neurologist in Indianapolis specialized in the treatment of cerebrovascular disease. Dr. Lopez is the Founder and Medical Director of Alivio Medical Center in Indianapolis - an institution dedicated to provide health care to low-income patients since 2002. Dr. Lopez practices in Neurohealth Ltd providing neurology consultations including electrophysiology and ultrasonography. Dr. Lopez has impacted the community in Indianapolis, specially the Hispanic community, through the creation and coordination of free health fairs and Alivio Medical Center, as well as a Spanish radio station show devoted to health education. Dr. Lopez has dedicated more than 10 years to research and study the brain. Dr. Lopez was a Co-Director of IU/Wishard Stroke Unit in 2001-2003, a Cerebrovascular Fellow at Indiana University School of Medicine (IUSM), a resident physician in Neurology at Loyola University of Chicago, and a clinical lecturer in Neurology at IUSM. Alivio Medical Center offers health care in several medical disciplines to cover the basic medical needs of the community such as family practice, cardiology, dietitians, gynecology, laboratory, neurology, orthopaedics, pediatrics, etc.

Dr. Lopez is committed to provide high quality health care with a responsible management of his patients' sanitary information. Dr. Lopez is committed to maintain the skills and knowledge needed for his work through continuing professional development. This same goal is encouraged by Dr. Lopez to the practitioners that work for and along with him. Dr. Lopez understands the cultural implications in the medical practice and health care for Hispanic immigrants specially. He struggles to offer his patients medical services with dignity and quality. He speaks fluently English and Spanish languages. His medical attention will always be the highest regardless of origin and level of economic income. Congratulations Dr. Lopez, we all are very happy and proud for you.
October 10, 2004 (www.sadco.org) Colombian Soprano Patricia Caicedo performs in Indianapolis

Colombian Soprano Patricia Caicedo was the featured performer during the Choral Concert to celebrate the Sociedad Amigos de Colombia 20th Anniversary (SADCO). The recital also featured the Indianapolis Children's Choir (ICC) at the impressive Christel DeHaan Fine Arts Center at the University of Indianapolis. Patricia Caicedo and the and ICC joined voices to celebrate SADCO's 20th Anniversary with a dreamed, top quality performance.

Colombian Soprano Patricia Caicedo is a leading international concert and recording artist whose repertory focuses on the Latin American and Spanish Art Song. Her distinguished career has included concerts with the Tolima Symphony Orchestra, National Public Radio in the United States, Canada, Spain, Denmark, Italy and numerous concerts in Colombia and throughout Europe.

Caicedo recently recorded the well-received CD "Lied: Art Songs of Latin America". One reviewer noted, "Reflecting her deep emotional connection to the music, she interprets the repertory with extraordinary sensitivity and sweetness." Dr. Patricia Caicedo is available for concerts, as a speaker/professor at consortia, and as a voice teacher for students of all levels. Ms. Caicedo has earned highest honors in numerous festivals and competitions, including a prize awarded by Sony Music for best classical soloist in 1998 in Colombia and first prize in the "Concurso Nacional del Bambuco" competition, also in Colombia, in 1993.

In addition to her busy performing schedule, Ms. Caicedo is an expert in the history and musical interpretation of the Latin American art song; her current research affiliation is with the Autonomous University of Barcelona in Spain. A popular teacher as well as performer, Ms. Caicedo regularly gives concert-lectures, master classes, and serves as Artist-in-Residence at leading universities and as a Cultural Ambassador for the Colombian Diplomatic Corps. Ms. Caicedo made her professional debut in 1993 when, as a part of the International Festival of Classical Music, she was a soloist in Gabriel Faure´s Requiem, accompanied by the Tolima Symphony Orchestra. Since then she has been a soloist in J.C. De Arriaga´s Stabat mater and G.B. Pergolessi´s Stabat mater. Born in Ibagué, Colombia, Ms. Caicedo began studying piano, music theory, and voice as a child at the Tolima music conservatory; then continued with private instructors in Bogotá. After completing medical studies in Bogotá, she resumed her voice studies and has since worked with Alfredo Krauss, Maya Maiska and Jana Young.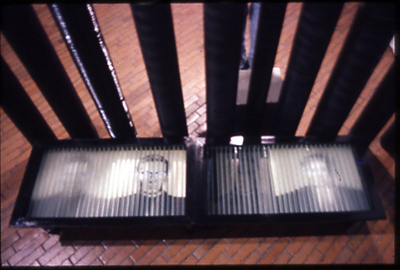 October 6 de 2004 (www.eltiempo.com) Jaime Avila, exhibiting in Sao Paulo and Liverpool

Colombian artist Jaime Avila will be exhibiting in The Art Biennales of Sao Paulo and Liverpool. Jaime is representing Colombia with his project "Tres Imperios" (Three Empires) and a section of five square meters of that was selected as one of the winners of the Luis Caballero Award. The last edition of the Brasilian exhibition was visited by more that 670,000 visitors. This year, during the celebration of 450th Anniversary of Sao Paulo, city authorities have decided to not charge any money to attend the event. Thus, it is expected about one million people will attend.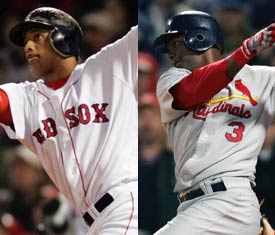 October 28, 2004 (www.mlb.com) Two Colombians shine in World Series. Renteria, Cabrera a hit in Colombia

Behind a dominant, three-hit effort by Derek Lowe, the Red Sox completed their World Series sweep of the Cardinals, winning their first title since 1918. Johnny Damon's first-inning home run started the scoring for Boston, and Trot Nixon hit a two-run double in the third. Manny Ramirez was named series MVP. And for the first time in World Series history, two Colombian short stops played against each other in the series. The winner was Orlando Cabrera. The loser was Edgar Renteria. A World Series being played thousands of miles away has residents of a small Latin American country tuned in like never before. "It's front-page news every day," Red Sox shortstop Orlando Cabrera said. "They start the news with the World Series and that's never happened. Soccer is the big sport there." But even soccer has been booted to secondary status in Colombia, which has two of its native sons playing shortstop in the 100th World Series -- Cabrera for the Red Sox and Edgar Renteria for the National League champion Cardinals. Not bad for a country that has produced just seven Major League players.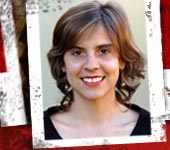 September 27, 2004 (www.eltiempo.com) Documental "LA SIERRA", created by Margarita Martinez and Scott Duncan, wins international award

In their documentary La Sierra (Colombia), Scott Dalton and Margarita Martínez capture a year in the lives of young adolescents in a Medellín barrio on the front lines of Colombia's civil war. Margarita Martinez, a journalist for The Associated Press, and Scott Dalton, a freelance photographer, made this long format documental on the life of three inhabitants of one of the paramilitary-dominated areas of the city of Medellin. The film was the winner of the IFP/NYM Market Awards for Best Documentary Feature. La Sierra is an intimate, unflinching portrait of three lives defined by violence, and a community wracked by conflict. Over the course of a year these lives, and the life of the barrio itself, each undergo profound changes, experiencing victory, despair, defeat, death, love, and hope. In a place where journalists are seldom allowed, Scott Dalton and Margarita Martinez spent a year filming, interviewing, and building trust. The result is a frank portrayal that not only includes startling scenes of graphic violence and its aftermath, but also reveals intimate moments of love and tenderness, and shows the everyday life that manages to coexist with conflict.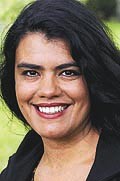 September 15, 2004. (http://www.svd.se/dynamiskt/kultur/did_8131286.asp) Colombian Edda Manga wins Clio Prize on History in Sweeden

Colombian Edda Manga won the Clio Prize of historical research for its doctorate thesis on a case of feminine masturbation in Havana in XVIII century. The prize is annually granted to young historians since 1994 by the periodical independent conservative "Svenska Dagbladet" and the Club of the Historical Book Clio. The awarded thesis titled "Divine Appearances and Evil Copulations", researches the case of a woman, Cecilia Rodríguez, that used masturbate during hours while confessing at church. The study is a "story on a woman, Cecilia Rodríguez, whose life in Havana of XVIII century goes on during a time of conflict between the African religious beliefs and the customs of French illustrated rationalism", explains an official press release. The Colombian historian made her research for her doctorate thesis in the Real Archive of Madrid and defended it the University of Gotemburgo in 2002. The Columbian historian lives in Sweden since 1986, where she is a research assistant in the Department of History of the Ideas of the University of Uppsala.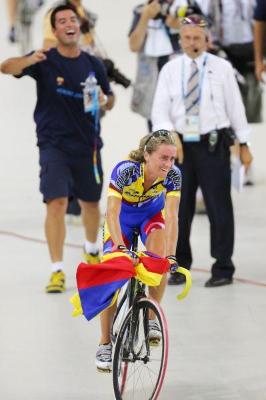 September 01, 2004 (http://uk.sports.yahoo.com) Colombia to appeal to CAS after Olympic medal withdrawn for doping
The Colombian government and their national Olympic committee said they were going to appeal to the Court of Arbitration for Sport after an Olympic bronze medal was stripped from a cyclist for doping. After the withdrawal of Maria Luisa Calle's medal, won in the women's track points race in Athens, Colombia have now just one medal from the games in a bronze won by Mabel Mosquera in the 53kg category of women's weightlifting. Calle, who tested positive for stimulant heptaminol, protested her innocence in Medellin, Colombia on Tuesday, saying she would fight to restore her honour. "I am innocent," Calle said in a press conference. "I don't want Colombia to judge me harshly. When I was on the podium I was thinking solely of the joy I was bringing to my country. "It is impossible to get back the bronze medal but the most important thing for me and for my country is that my reputation remains clean. I don't want to be considered a cheat." The 35-year-old said she had taken paracetamol for a headache but the pain remained and, after medical advice, took a drug called neosaldina. "The doctor knew all the banned substances and I took these drugs without any worries at all. We think that one of these products transformed itself in my body which unfortunately resulted in this positive test."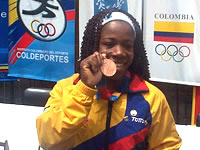 August 29, 2005. (www.si.com) Colombian Mabel Mosquera wins Bronze Medal in Olympics.

Colombian Mabel Mosquera won Bronze Medal in the 2004 Olympics in the weightlifting women's 53 kg category. The finals results were:

1. Udomporn Polsak (THAILAND)
2. Raema Lisa Rumbewas (INDONESIA)
3. Mabel Mosquera (COLOMBIA)

Mabel Mosquera took the bronze, the second women's weightlifting medal won in as many games by Colombia. The 35-year-old pharmacist didn't take up weightlifting until four years ago, unusual in a sport where most competitors start at an early age. "I am aware that most weightlifters stop before they are 31, when I started, but I believe I have lots of years ahead of me," she said. "I have my own gym and I got a Cuban trainer (in 2000) and I started competing, and now here I am at the Olympics with a bronze medal. "I don't believe age is important. What matters are emotion, wanting to go forward and strength."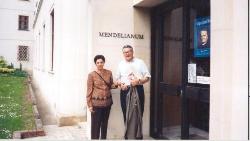 Marzo 25 de 2004. (www.eltiempo.com) Mexico honors Colombian scientist

Colombian scientist Fabio Salamanca was recognized in Mexico for his research on the human genome. Fabio Salamanca is the Head, Unit of Medical Research in Human Genetics National Medical Center in Mexico. Salamance left Colombia 35 years ago and has dedicated all his life to genetics research. He has visited his home country every year since then. He married a Mexican lady and his only son was born in Colombia. He is a member of 43 medical associations, author of three books, and was recognized yesterday for his extensive research. He is an expert in molecular genetics, cytogenetics, cancer genetics, pulation genetics, and hereditary malignancies.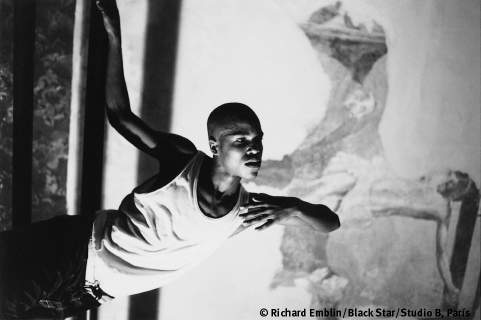 Marzo 11 de 2004 (http://www.kampnagel.de) Alvaro Restrepo named Director of LAOKOON Hamburg´s International Dance and Theatre Festival in Kampnage, Germany.

Colombian dancer and choreographer Álvaro Restrepo has been named as the new Director of LAOKOON Hamburg´s International Dance and Theatre Festival in Kampnage, Hamburg, Germany. Alvaro is also the director of El Colegio del Cuerpo (The School of the Body). An institution dedicated to teach dance to disadvantaged children between 10 and 15 years old in Cartagena de Indias. He teamed up with Marie-France Delieuvin, programme director at the National Centre for Modern Dance in Angers, France, and their joint endeavour has produced astonishing results. . The new director/conductor of the Laokoon summer theatre Festivals on Kampnagel is an old acquaintance. The Colombian choreographer and dancer Alvaro Restrepo, who will be the curator of 2005-2006 the Summer Festival, is already connected to this culture factory since 1992. He was there for the magic dance ritual "Rebis". In coproduction with the first Laokoon Festival its poetic picture journey "Tetralogia" developed. His vision of a contemporary theatre proceeds with the body, "from a thinking body", stresses Restrepo, which already brings along experience in the Festival from his homeland. "body - mirror - world", under this eading stands its first Festival on Kampnagel. Restrepo takes over former director Hidenago Otori from Japan. Restrepo, wants another spirit to resume - an artist and a practical man from Colombia takes over the line of a theoretician and critic from Japan.

Alvaro Restrepo (Colombia): "Tetralogy - A Vision of Colombia"
The four-hour dance spectacle by Colombian dancer and choreographer Álvaro Restrepo consists of four segments, performed in two different venues. Restrepo merges contemporary dance with traditional and spiritual forms of movements. Tetralogy – co-produced by and premiering at Kampnagel – develops a metaphor on the crisis of cultural exchange. Please visit this Unesco site to get to know more about Alvaro and his project.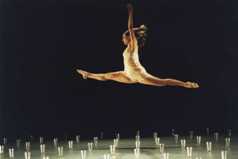 March 8,2004. (http://www.geocities.com/lexplose/) Colombian dance group L'Explose triumphs in France

The play 'La mirada del avestruz', from the Colombian dance group L'Explose, showed an outstanding presentation in Paris. In 1991 Tino Fernandez founded L'EXPLOSE in Paris, after intensive research into contemporary dance. He later moved to Bogota Colombia - South America, where he incorporated the company formally, continuing with his work of making dance-theater a stronger concept with greater depth. The group was created in response to a particular need for expression, woven around the emotions rather than movement. The result is that their work involves crude and violent movements to express an encounter with reality, and rejects the coding of an intimate imaginaire in the society of the artificial. L'EXPLOSE is also an encounter with artists from different disciplines brought together in choreographic projects proposed by the Director.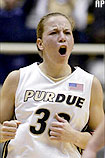 March 8, 2004. (www.purdue.edu) Colombian Erika Valek, triumphant in NCAA Basketball

Colombian Erika Valek, from Bucaramanga, a guard at Purdue Univiersity basketball team, has won the Big Ten Tournament Championship. Valek is an All-America Candidate and a Frances Palmeroy Naismith Award Candidate. Erika Valek arguably is the best pure point guard in the country. A 5-foot-6 senior for the Purdue Boilermakers, Valek is in contention for All-America honors, as well as the prestigious Frances Pomeroy Naismith Award, which is presented annually to the nation's most outstanding NCAA Division I women's basketball player who stands 5-foot-8 or under.

Erika Yaneth Valek ... born April 9, 1982, in Bucaramanga, Colombia ... parents are Janeth and Juan Carlos Valek ... has two younger sisters, Tatiana (15) and Viviana (3) ... family now resides in Zionsville, Ind. ... majoring in health and fitness.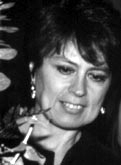 February 23, 2004 (http://iblnews.com/news) Colombian writer Laura Restrepo wins VII Alfaguara Award

Colombian writer Laura Restrepo was awarded with VII Alfaguara Award, one of the most important awards of Ibero American literature. Laura Restrepo won with her latest novel work titled "Delirios". Restrepo competed against 634 more novel works registered for this contest.
Laura Restrepo is a bestselling author and political activist. She has published several novels, including Leopard in the Sun and The Angel of Galilea, which was awarded Mexico's Sor Juana Ines de la Cruz Prize and the Prix France Culture Award. She has been a professor of literature at the National University of Colombia as well as publisher of the weekly magazine Semana. In 1984 she was a member of the peace commission that brought the Colombian government and guerrillas to the negotiating table. As she does with all of her novels, Restrepo did thorough research for The Dark Bride, transforming her investigations as a journalist into the foundation for a fictional creation. She lives in Bogotá, Colombia.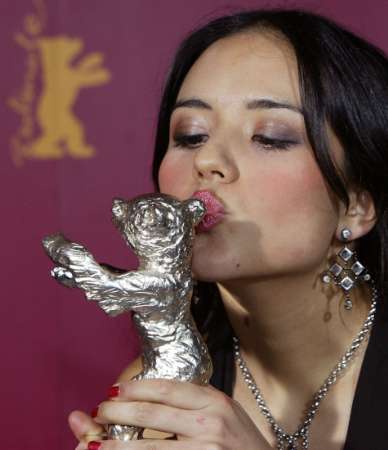 February 16, 2004 (Rueter.com) Colombian actress Catalina Sandino wins Best Actrees Award at Berlin's Film Festival.

Colombian actress Catalina Sandino Moreno kisses her Silver Bear award after the awards ceremony at the 54th Berlinale international film festival Berlin February 14, 2004. The Silver Bear for best actress was awarded to two actresses - to South African Charlize Theron for her role in the American independent 'Monster' and to Catalina Sandino Moreno for her role in 'Maria Full of Grace'.

This was another of the films at Sundance 2004. It won the Audience Award! The script is extremely well written and the story is compelling. It followed young Maria from her dead end job stripping roses in Colombia to a new opportunity...becoming a "mule"...ingesting drugs in large capsules and smuggling them to the United States. For this "simple' act, she would earn a boatload of money. Of course the task is not as easy as it seems and Maria faces a harrowing week. Fine performances by all involved make this an interesting and fascinating film.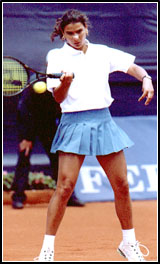 February 8, 2003 (cbs.com) Fabiola Zuluaga wins Bogotá Open after being a semifinalist in Australia

Fabiola Zuluaga, ranked 23 in WATP, won her fourth Copa Colsanitas, in Bogota, Colombia (1999, 2002, 2003). Her only other win on tour came in Sao Paulo, Brazil in 1999. She is the first Colombian to reach the quarterfinals of a Grand Slam tournament at the Australian Open.
February 2, 2004 (eltiemp.com) Colombian philosopher and mathematician Fernando Zalamea Traba wins Jovellanos Award

Colombian Fernando Zalamea Traba won Jovellanos Award, which is on of the most important essay awards of Spain. Zalamea was declared winner of the 2004 International Essay Award for her work "Ariadna and Penélope, networks and mixtures in the contemporary world". Accoding to the Judge President, Sabino Fernández Campo, the winning work proposes a double task of "decomposition and recomposition" in order to perceive the complex mixtures of the contemporary world.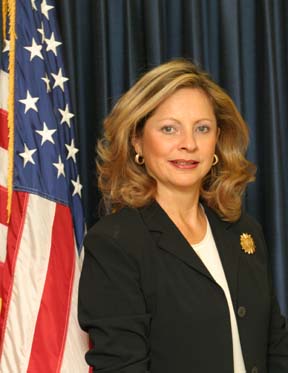 January 12, 2004 (www.fhfb.gov) Colombian woman is the first Hispanic to be appointed to the Federal Housing Finance Board and is the first woman to serve as a director

Alicia R. Castaneda was nominated by President Bush on June 18, 2003 and confirmed by the Senate on Dec. 9. 2003, as a director of the Federal Housing Finance Board. She is currently serving in a term that will expire Feb. 27, 2004, and has also been confirmed to a term that expires Feb. 27, 2011. Ms. Castaneda brings more than 27 years of commercial banking experience to the Federal Housing Finance Board, most recently as Senior Vice President, International Private Bank, with Bank of America in Washington, D.C. She has developed expertise in fixed income instrument sales and trading, short-term investments, and arbitrage and liability management.

A native of Colombia, Ms. Castaneda earned a bachelor's degree in economics from the Universidad del Valle in Cali in 1969. She immigrated to the United States in 1970. Ms. Castaneda is the first Hispanic to be appointed to the Federal Housing Finance Board and is the first woman to serve as a director since the Finance Board became full-time in 1990. Ms. Castaneda resides in Washington, D.C., with her husband, Rolando Castaneda.

Come visit this link to learn about more positive news about Colombia.
---