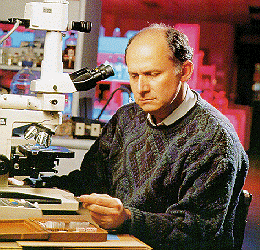 Manuel Patarroyo, one of the world's most flamboyant medical researchers, a biochemist from Colombia, has developed the world's first safe and effective malaria vaccine.
Ironically, it took him only 4 years to make his discovery, but 6 years to convince the world that the vaccine worked. Dr. Patarroyo assigned the patent to the World Health Organisation so he wouldn't profit from it personally. His goal is that his vaccine be accessible to all affected regardless of economical background. Tests have shown the vaccine to be between 30 and 60 percent effective, and so could save over 100 million lives a year (300 million people die from malaria every year).
The scientific world has now bestowed over 50 awards on Patarroyo. But Patarroyo has refused offers from drug companies of up to $68 million for the vaccine rights, choosing instead to donate them to the WHO (World Health Organization).
He proved an outstanding student and was plucked from medical school in Bogota by the Rockefeller Foundation and sent to Yale. He gained his PhD at Rockefeller university - with two Nobel prizewinners, Bruce Merryfield, who won the chemistry, prize and Harry Kunkel for medicine, both in 1984. He returned to Bogota in that year and set up the institute attached to the medical school and hospital. He now employs 180 people on research round the clock, most on 8am to 8pm shift. "There are lots of good scientists in the developing world working hard to solve the problems of mankind."
"It is not my project in life to become a millionaire, or to be powerful or famous, but really to solve what I want to solve. That is my life project, my life purpose," he declared.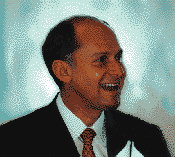 You are cordially invited to enter the following sites and get to know more about Dr. Manuel E. Patarroyo
---