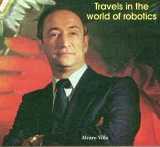 Alvaro Villa, a Colombian immigrant who left Disney to begin his own modest company, called AVG' Productions, Inc. Villa, typifies the combination of rugged individualist and imaginative tinkerer now sparking the automated entertainment revolution. "My mind was always on electronics and comic books. At the age of three I was rigging flashlights and crystal sets. Everything I got my hands on I would take apart. When I was seven years old, my grandmother brought me a Disney comic book from the United States. I was fascinated. I would spend hours dreaming about beautiful places and colorful animals and putting together plays and scripts in my mind." Having decided to become a pilot, Villa came to the United States at the age of twenty-one. Knowing no English, he went to work as an assembler in an electronics plant. He talked his way into college without a high school diploma by promising that it was en route from Colombia. After earning his engineering certificate, he went on to do postgraduate work at UCLA. Then he discovered Walt Disney Productions, a paradise seemingly made for him, and he was hired in 1969 as an electronics assembler. "As soon as I joined Disney," says Villa, "I knew I had found the right place. It encompassed all of my dreams fantasy, art and electronics. I soon became involved in installing three-dimensional animated characters at Disney World." Villa progressed quickly at Disney, becoming a chief research engineer, but he knew he could do better on his own, and in 1978 set out to prove it. AVG' Productions began in a workshop about the size of a two-car garage and today occupies a sprawling, forty-four-thousand square-foot complex amid the rolling hills near Valencia, California.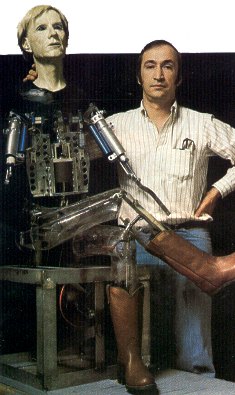 Colombian master robot-maker Alvaro Villa and his company AVG Productions have created a wave of robots invading the entertainment world, much to the delight and amusement of audiences all over the world. For decades, Disneyland in California and Walt Disney World in Florida have been the Meccas of automated entertainment, boasting robot presidents, pirates, bears and others of their ilk. At EPCOT, dinosaurs lurk and slosh in Mesozoic ooze; broccoli, bananas and other foodstuffs sing the praises of good nutrition; and Ben Franklin spins yarns of America's early days, aided by a cantankerous Mark Twain. In addition, dozens of supporting robot actors play other roles in tableaus depicting the history of transportation, energy, agriculture and the spirit of the human imagination. The business of building robots is a highly collaborative one, requiring artists to design the figures, sculptors to render them in three dimensions, technicians to build them and animators to bring them to life. A robot consists basically of a plastic or fiberglass-covered metal framework, including hinges where movement is required. Its muscles are small, electrically and electronically activated hydraulic or pneumatic cylinders, and its nervous system is a network of electric wiring. These are connected to a small computer, which operates the muscles according to instructions on a sophisticated chip.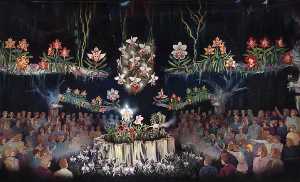 AVG has created The Orchid Show for Colombia's Parque Nacional del Cafe. This sit down, theatrical-style audio-animatronic musical review will feature performing orchids, the national flower, in the same manner as the robotic birds in Disneyland's Tiki Room and "The Gilded Cage," created by AVG for Atlantic City's Golden Nugget Hotel. AVG conceptualized the project, and produced the artistic design and music, in addition to fabricating and installing the show elements.


---